Since it's beginning in 1899, Wearly Monuments has offered the most complete line of Memorial Products in our industry - ranging from the simplest individual markers to the most complex and detailed private and public memorials. We have the resources and ability to create your choice of a suitable and lasting memorial.
We offer a wide variety of design and finishing techniques on all of our memorials. Deep cut lettering, personalized etched scenes and photographs, shape carving and sculpted designs are but a few of the components available. We also offer cast bronze attachments and memorials cut into custom shapes to help emphasize a point of interest our customers may want to convey.
Combining old world craftsmanship, modern technology, and raw materials from around the world, Wearly Monuments possesses the ability to satisfy any custom or traditional memorial need.
Our designers and craftsmen stand ready to transform your ideas and imagination into reality. Contact us with your personal ideas and we will help you through each step of the way.
Upright Memorials
---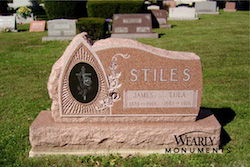 An upright tablet has been a standard of memorialization for generations. Wearly Monuments produces a full range of upright memorials from the most traditional design that is elegant in its own simplicity to the most contemporary and complex. Deep cut lettering, carving and attention to detail assure the making of a timeless and fitting memorial.
View Traditional Upright Memorials »
Markers
---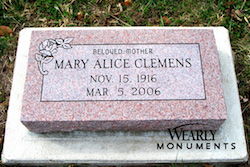 Whether determined by cemetery restrictions or personal preference, Wearly Monuments provides a full range of marker style memorials. Crafted from the finest Granites, Marbles, and Bronze, each marker is individually created to your specifications.
Family Memorials / Features
---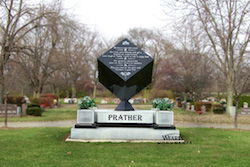 Wearly Monuments welcomes the opportunity to design and create a fitting Family Memorial. By combining personal preferences, tastes and ideas with our design, manufacturing and setting abilities, we have erected many family memorials of distinction. We welcome the challenge of your ideas and inquiries.
Mausoleums
---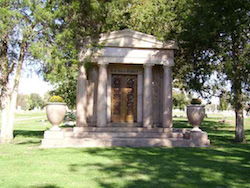 When above ground entombment is your family choice, Wearly Monuments possesses the knowledge and architectural ability to provide an enduring building of distinction. Having designed and erected private and public mausoleums nationwide, we have the experience and expertise necessary to be considered authoritative and a most proficient choice for all of your Mausoleum needs. Whether your need is for a simple single crypt style or multiple crypt walk-in buildings, Wearly Monuments can deliver. We maintain several buildings in inventory that can be delivered in as little as 48 hours, if needed.
Architectural Pieces / Signs
---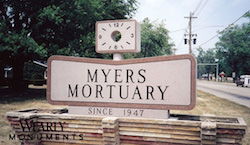 Wearly Monuments provides a wide variety of natural stone signage. For the business or any location that wishes to convey a sense of permanence and establishment, natural stone signage is the enduring choice.
Public Memorials
---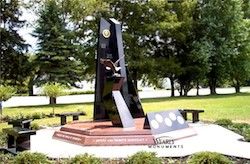 Wearly Monuments is the premier provider for civic and military memorials. We have been privileged to design and erect numerous public memorials across the country and would be honored to be part of your community project.
HAND ETCHING
---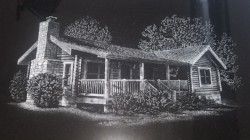 Wearly Monuments employees two local area artist with a combined 30 years of experience in the art of Hand Etching. Hand Etchings are a beautiful addition to any memorial that can add an unmatched level of detail and customization. From the smallest emblem or logo, to a large family portrait or family farms, to one's prized automobile, guitar or family pet; a Hand Etching can offer completely individualized option to help memorialize the life of a loved one.

Fundraising
---
Wearly Monuments provides Donor Plaques created from granite and bronze. Memorial Pavers from granite and brick are available for private and public fundraising projects. Contact us, and watch your dreams become realities.